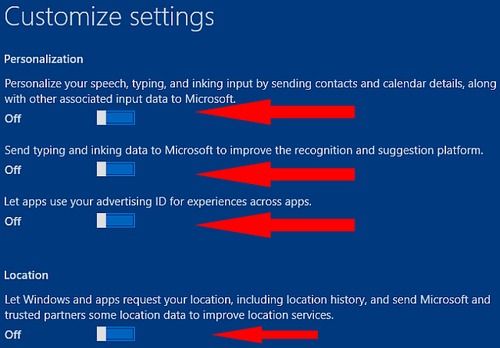 Windows 10 Update Review – Install Windows Best Update and Protect Your Privacy
The Best Things In Life Are Free
If you haven't already upgraded to Windows 10, in the words of Light My Fire, "The time to hesitate is through."  If you didn't upgrade by July 29th2016 you will have to pay for an upgrade.  Shortly thereafter Microsoft will release the much heralded "Anniversary Update" which makes the deal even better.
 Privacy and the sharing of your ad ID are big concerns that stopped many from using Windows 10.  First remember to click customize when installing Windows 10.
Then make sure all the sliders on the screen below are in the off (slide left) position.  Next go to settings and turn location for all apps to the off position unless you want to get weather readings (I use my phone for that).
Until there is a vetted app that addresses all privacy concerns; you can make more extensive customizations yourself by clicking on the link to this article by PC World.
Windows 10 system requirements demand only 1 ghz of speed, 1gig of ram (2gigs for 64bit) and 16 gigs of storage (yes more than Apple but who doesn't have that).  All specifications and answers to all your Windows 10 concerns can be found here Windows 10 answer center. For more in-depth answers and videos on Windows 10 features, or if you have already installed Windows 10 and want to personalize it click here.
Better yet, get the upgrade done for free at your local Microsoft Store, if there are still any appointments left before the deadline.  If you have a Lynda.com account (you can get a free 10 day trial), watch the most in depth, clearest Windows 10 tutorial Windows 10 Essential Training by Nick Brazzi.
Before I go any further, I must admit I was a Mac person.  I have 2 Macs and now one Lenovo at home.  Like some grim reaper, Apple's newest OS El Capitan OSX 10.11.6, has rendered both my Mac Powerbook, that I used to do 2k special effects (a Roger Corman production), and an iMac that I used for scoring and editing, useless. They lack the specs to run El Capitan which Adobe's Creative Cloud apps, Avid Media Composer and Pro tools 12 demand.  All those apps run just fine on Windows 7 however.
El Capitan OSX 10.11.6, says it only requires 2gb of memory and 8 gigs of storage; if that's all you have, good luck! El Capitan is a 6.8 gig install. I had to install an SSD hard drive to keep my girlfriends IMac from slowing down with a 3.06ghz processor.  If you just surf I guess that's ok but I have a smart phone for that.
If you have Windows 8 then it's a no brainer.  Many others and I, especially those who edit or create music, video, 2D or 3D, chose and stuck with Windows 7 for years now.  I recently switched to Windows 10 and did not regret it.  The native security that Windows 10 provides is better than Windows 7 and it is about to get even better with the Anniversary Update.  Both start up time and battery life have improved and Windows now has a task view like OSX that allows you to split and slide screens.
The start menu in Windows 8.I was clumsy, causing many users to install classic shell to recover a Windows 7 menu style (It was also installed in the lab where I work).
Now in Windows 10 you have the best of both worlds (yes there were positives in Windows 8 tiles). On the left side of the menu you have the classic Windows start menu and on the right, you have tiles you can customize and resize. You can dedicate some tiles to your most used programs or apps as the video below explains.
The system settings are now easier to access. You can either right click on the start menu or click on the start menu and when it expands click to the main settings window.
Settings is where you personalize your lock screen, change your theme or go to action center where you see or turn off notifications or settings you use most often like Bluetooth, brightness with a tap or a touch etc. Settings is also where you find the Windows Hello set up.
Windows Hello is a truly secure, superfast way to login and protect your PC.  If your PC or tablet has a fingerprint reader or a camera it will recognize your facial features and log you in.
Cortana, the Windows version of Siri, is now good enough to give Miss Siri a run for her money.  It is super smart and flexible. In The Anniversary Update you can talk to Cortana before you even login.
However to disable Cortana in The Anniversary Update you must use the group policy editor as explained in this article.
Edge is the default browser for Windows 10. It runs faster than Internet Explorer and it's minimalist, easy to navigate and a big improvement over Internet Explorer.  The minimalist ethos is extended to the address bar, which is not visible till you click on it.  For pages that are heavy on text you can click on the reading view and all those annoying ads and overlays disappear (yay!).  You can also make notes directly on a web page and interact with Cortana.  Finally all the rest of your browser settings (including privacy, and pop up blocking) are instantly available under the hub menu indicated by 3 horizontal lines.
So if you think I am being a bit of a cheerleader, I would just point to the fact that this update is the fastest adoption of Windows ever, with Windows 10 on more than 350 million active Windows devices.
Published on Jul 28, 2016
<script>
(function(i,s,o,g,r,a,m){i['GoogleAnalyticsObject']=r;i[r]=i[r]||function(){
(i[r].q=i[r].q||[]).push(arguments)},i[r].l=1*new Date();a=s.createElement(o),
m=s.getElementsByTagName(o)[0];a.async=1;a.src=g;m.parentNode.insertBefore(a,m)
})(window,document,'script','https://www.google-analytics.com/analytics.js','ga');
ga('create', 'UA-98879382-1', 'auto');
ga('send', 'pageview');
</script>