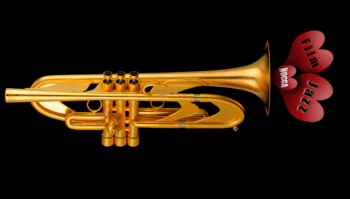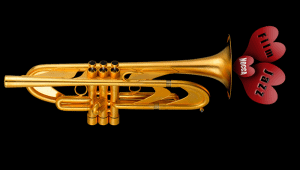 1996
Trumpeter/composer Terence Blanchard, has followed his heart back home to New Orleans. He's there to be close to his kids, to take care of his father and to settle in for the duration of a sterling musical career.
After completely refashioning his approach to his instrument, struggling for recognition in the thorny film world, completing a trio of landmark recordings culminating with The Heart Speaks, his instrumental and spiritual union with legendary Brazilian composer-pianist Ivan Lins, Terence is due some quality down time.
Reflecting on the course of events he commented, "It all has to do with growth. Woody Shaw told me when I was young , 'I can't wait to hear the changes in your playing when you've gone through life.' Young and ignorant as I was, I said, "Hey! I know the tunes already!
"Now I've reached that stage in life where every time I put the horn to my lips, it's really starting to mean alot to me, . It's a god given talent and I plan to choose not abuse it every time I play. In that respect I'm starting to get like Ivan (Lins) who gives it everything he's got, whether he's practicing or performing."
Terence acquired this philosophical approach along with some superior musical training at The New Orleans Center for the Creative Arts, an educational force which provided Terence, Wynton and Branford Marsalis (among others) with a wider view of Jazz and life in general.
"My time at NOCCA was the biggest influence on the manner in which my career developed. Ellis Marsalis, Roger Dickenson and George Jason taught us to think about and plan our futures creatively and artistically, instead of being in a position where your career and musical persona are determined by a series of reactions to events or public pressures.
To give us perspective we watched the "Civilization" film series. Instead of looking for the differences in musical styles, we explored the commonality by looking at the similarities between the sonata form and rhythm changes as well as the common ground between The Baroque Period and Jazz."
Following a stint at Rutgers he continued his studies were with Lionel Hampton and later as the musical director in Art Blakey's Jazz Messengers where he was introduced to his future partner, altoist Donald Harrison.
"With Art there was no ego , no competition. He always understood his role as someone who trained "Messengers" to be future bandleaders, not sideman, who would pass the legacy on. No other bandleader would have encouraged, let alone allowed, the band members to write the tunes and run the group the way Art did. He intervened only after he saw you fall, picking you up and then brushing you off and putting you on the right track. After hearing my version of "My Funny Valentine", (which I modeled after Miles),for two months, he pulled me aside and said, "Miles did all you can did with that tune. Find a ballad you can give your signature to."
When Donald Harrison, Terence and pianist Mulgrew Miller, the nucleus of the group left en masse. Blakey the ultimate Jazz foot soldier said to Terence, "I appreciate what you've done. I'll always be here for you, but you've got to be replaced."
The way Art Blakey handled the injustice of the music world and the prejudice of the society at large made a real impression on the way Terence conducts his life. "Being bitter and angry doesn't solve anything. Many Afro-American males think that anger is the issue and that shouldn't be the case."
"As affable as Dizzy or Art Blakey was they felt rage at being mistreated. But they channeled the rage and made it work for them. They both understood eastern philosophy and how it allows you to transcend the vicious emotional cycle and live a quality life, in which you dictate the form of your existence."
Some look at the high profile recordings Terence has made along with his work in the movies and assume the road has been a smooth one. Recent events have forced him to make changes and take the kind of chances which have turned him inside out. He took the greatest leap of faith in the middle of a successful partnership with Donald Harrison.
"After "Black Pearls" (with Donald Harrison) I reexamined the way I played trumpet. I kept getting cut and I realized my embouchure was more suited to playing the sax than the horn. That was why I stopped playing and touring with Donald. I went back to the beginning. The first day with my new embouchure I couldn't even make a sound. I got nothing but air. People who came over probably thought they were hearing my son."
Fortunately Spike Lee who had used Terence on "School; Daze", contracted Terence to mold Denzel Washington into a believable horn player for "Mo Better Blues". After hearing Blanchard's composition "Sing Soweto", he also asked Terence to orchestrate the tune for the film. So impressed was film maker Lee that he chose Terence as his main man.
"When Spike asked for that first orchestration I said sure even though I had never scored for film. I just listened to a lot of scores and let the fine training I got at NOCCA bubble to the surface. "Mo Better Blues" was great for me because it allowed me to stay home and practice and finish remodeling the way I play. And I got to say Denzel was an amazing student, learning all the fingerings for the tunes, even though he had never touched a horn. He got so he could play some of the tunes and just pick out melodies like "All The Things You Are", something he did a lot when he didn't want to be bothered on the set."
Though his lush orchestrations for "Malcolm X" and "Clockers" should have garnered him a nomination, he is still thought of by the musically "unwashed' in Hollywood as a Jazz musician who can only write Jazz scores. Still he takes it in stride.
"The indignities I'm going though now are shared by all cinema scorers. For decades Elmer Bernstein was thought of as a comedy composer, something that is happening to Miles Goodman right now. I mean they look to John Williams for blockbuster scores in spite of the tender ethnic theme he wrote for Schindler's list. Besides I have my band (pianist Ed Simon, drummer Taurus Mateen and bassist David Pulcifer) which I can go out and tour with.