Off The Beaten Track
The life of most composers who score for film is a proscribed existence dictated by directors and the men with wallets (producers and other financiers), for whom music in their films is often an afterthought. As they near completion of a project, unless they've assembled a collection of pop songs as their 'soundtrack,' they turn to one another and say, "Shouldn't we be thinking about a composer?" The composer is then called in and is shown the film, which usually includes a 'temp track,' borrowed from another composer's score, that fits the director's or studio's idea of what would suit and/or sell the movie. The newly hired composer often feels obliged, after hearing the temp track, to submerge his own compositional style and instincts to write like someone else. It's a process which promotes conformity rather than creativity.
Fortunately, there are a number of thoughtful directors who don't work that way. As Lennie Niehaus, longtime friend and composer for Clint Eastwood, points out, "Clint will never temp a movie. He wants to hear what the composer will do. You'll go to some studios and they feel they have to pitch the movie with a temp track, because they couldn't possibly see what's there without it."
Many of the most creative film composers today come to Hollywood with a musical personality developed outside of the film industry, which they apply to the task at hand. One such composer, Stewart Copeland, former drummer for the Police, describes his introduction to the cinema. "Rumblefish was a strange introduction to film composing because the director, Francis Ford Coppola, was so genial and the intention, or brief, of the film was to break rules.
"Being new to the craft I didn't know the rules, I was just trying to learn how to do it. So I came up with different solutions to dramatic problems than experienced composers would have arrived at." It is such partnerships, then, that are slightly off the beaten track–including those between composers such as Mark Isham and directors Robert Altman and Alan Rudolph, Lennie Niehaus and Clint Eastwood, Carter Burwell and Joel and Ethan Coen–that allow for this kind of endeavor. These working relationships are notable not only for their creative output, but also for the length of time (often a decade or more) they have held together in the fickle world of film.
Concerns about the nature, shape, and size of the musical score occupy Robert Altman from the beginning of each film project. "One of two things happen when I make a movie. One, before I start a film I know exactly what the music will be. The second possibility is that I haven't got a clue about the score, which causes me to fret, and go back and forth from one idea to another. That's when I need the help of a composer like Mark Isham.
"I haven't finished a picture and simply handed it over to a composer to score in a very long time, not since Images [1972], probably the best score I've had done in that manner. John Williams used this Japanese percussionist, Stomu Yamashta, who created eerie, strange sounds by doing things like throwing bricks at the piano. Johnny actually created a score for that, which I still have hanging on my wall. When he mixed those sounds with his score for The London Symphony Orchestra, the result was marvelous.
"On Kansas City we knew what we wanted because the music was as important as the film. On Gingerbread Man, I tried to do a film without music. I wanted to make a movie with scenes that would stand up without a score. I used the sound of the hurricane, rain, and the wind banging shutters to accompany the action. To that I added sampled tones which were hidden and blended with the sounds of the wind, creaking doors, and so on. I was happy with the final product, but it was a little too tough on the audience not to have the advantage of the score."
Robert Altman then called Mark Isham in to create a 'musical' score. Isham blended melodic motifs with the sampled tones and the sounds of nature's fury. The seventy minutes of music that Isham wrote for the film heightens the suspense without calling attention to itself. "If you're involved in the movie, you don't hear it as something separate," Altman said. "It's seamless and works together. The unique result came from the evolution of the project, which would have been different if I had 'started' with Mark. It's a growing process, just as the score for Short Cuts was."
In some of Altman's films, however, the music is meant to stand out and be noticed. "Both A Perfect Couple and Nashville were musicals. Sometimes I use bad music, like in California Split, where we used 'bistro' piano," Altman explained. "In Nashville, where the cast wrote all the songs, it mirrored the reality of Nashville. The amount of great songs coming out of Nashville is very small, and there are a lot of bad ones."
It seemed as if Leonard Cohen had written the songs used in McCabe and Mrs. Miller expressly for the film, but to hear Robert Altman tell it, it was totally unplanned. "About the time I was shooting That Cold Day In The Park, I fell in love with the music of Leonard Cohen. I wore out four albums. It never entered my mind to use his music until after I completed McCabe and Mrs. Miller. When somebody at a party in Paris put the album on, it hit me, 'Shit, there's the music for my film.' I flew back to Vancouver, recorded it and put it in."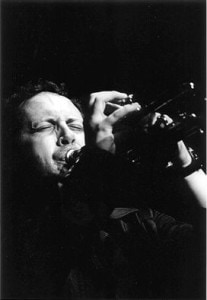 Mark Isham (photo by Bob Hershon)
Mark Isham's most significant film 'other' is director Alan Rudolph (The Secret Lives Of Dentists), with whom he has been paired off and on since the 1986 feature Trouble in Mind, and, more recently, on Afterglow, one of Isham's favorite projects. "Working with Alan is open season to find something interesting that's not formula," Isham said. "We believe in taking chances, going out on a limb. It's the most fun and can also yield some incredible results. Certainly Trouble in Mind did. Afterglow turned out tremendously. But your consistency can never be as high when you're dealing with the unknown."
The meeting of these two prolific artists, with like sensibilities, was a bit of Hollywood magic. After completing Trouble in Mind, director Rudolph went into a record store to try to find a composer who could do the score for the minuscule budget he had to work with. "I liked the music on Mark's album 'Vapor Drawings,' but I also loved the fact that he played all the instruments, which meant I could afford him. As we were attempting to get hold of Mark Isham's agent that Saturday, I get a call and David Blocker tells me it's Mark's agent calling us. I hired him on the spot with no further meetings because any intersection of life like that cannot be ignored.
"Later we went into Mark's dungeon to come up with some ideas, where he played horn and some outdated analog synths. He's such an incredible musician, eighty percent of what we got that day was used in the movie. We were trying to put something together in the dark. We turned on the light and there it was."
Isham, who moves from major studio projects like The Majestic, Men Of Honor and The Cooler, The League Of Extraordinary Gentlemen to smaller films like Afterglow, manages to keep his perspective on the whole process by putting much of his heart and soul into his career as a touring jazz musician. The respect he has earned in the jazz world was integral in helping him pull off the soundtrack recording of Afterglow, for which he assembled some of the finest jazz musicians on the planet, including pianist Geri Allen (part of Robert Altman's movie band in Kansas City), Charles Lloyd on sax, and Gary Burton on vibes.
The original deal with a record company to supply the artists and record the soundtrack album for Afterglow fell through. Left with little time and no budget, Isham hit upon the idea of calling Charles Lloyd, whose music had been used to screen the film, and promised Lloyd, who had expressed an interest in working with him, "I'll get together a band you would want to be a part of." Then, with the help of his manager and a helping hand from Lady Luck, he hired Geri Allen, who was in town as part of her tour along with Billy Higgins, and "Gary Burton was in town for the NAMM Show," Isham remarked. "Anything that would have involved plane fare was out of the question."
The instrumental score was really more of an improvisational jazz session, which left the players free to respond to each other. "I wasn't going to have a talent like Billy Higgins playing to a click track; I'd rather leave him free to work his magic and listen to Charles Lloyd," Isham explained. "So I just sketched out some general tempo ideas that would play right over each scene, communicating the emotional content of each piece, reflecting a character. In two days we got the music. In two and a half weeks, Alan and I made our cuts in New York and L.A., came together, compared, and shaped the results into a soundtrack album and a score."
Before his career in the film world, Lennie Niehaus was a featured soloist (alto sax), arranger, and composer in Stan Kenton's band. One of the most important figures to emerge from the West Coast jazz scene, Niehaus fell victim to the Rock revolution. Like Pete Rugolo, another Kenton alumnus (Dr. Kildare and The Fugitive TV series), he put down his alto sax, picked up a composer's pen, and turned his arranging talents toward film and TV.
Niehaus first made Clint Eastwood's acquaintance while they were both in the Army at Fort Ord, California. "I used to blow alto sax at an NCO club where Clint tended bar," Niehaus explained. "Back in the Fifties, we were both novices in the entertainment business and found we shared a love for jazz. Lennie and I have been friends ever since," Eastwood said.
Niehaus worked as arranger and orchestrated a number of TV series and movies with Jerry Fielding (blacklisted 1953-61), including The Outlaw–Josey Wales, The Enforcer, The Mechanic, Straw Dogs, The Wild Bunch, Hogan's Heroes, Bring Me the Head of Alfredo Garcia, and Nightstalker. "Unlike today in TV, where most of the music is incidental, especially in sitcoms, we actually underscored," said Niehaus. He received an Emmy for his work on Lush Life, which, along with Bird, he cites as the highlight of his career in film.
Niehaus took over the reins as Clint Eastwood's composer in 1984, beginning with Tightrope, a position he has held ever since. Their working relationship is made easier by the fact that Eastwood is one of the few directors who gives his composer the same quality time and attention that he gives to the other main players in his films. As Eastwood explains, "I would discuss the score with Lennie, for example, in much the same way I might talk about character with an actor, lighting with a cinematographer, or cuts with an editor."
"On Tightrope," Niehaus recalled, "we went walking down Bourbon Street on location and we realized New Orleans is not just Dixieland anymore. In addition to a composer who could do a thriller, mysterioso underscore, Clint wanted bebop, rock, and striptease, all those sounds that come at you walking down Bourbon Street. I composed five themes and, as he would go from one club to another in the movie, we would interweave them."
Unforgiven was a unique project, one for which the director, Eastwood himself, composed the main theme and then turned it over to Niehaus to arrange and orchestrate. One of the truest themes I've heard from any director's pen, Eastwood's simple melody was core to understanding William Munny, the film's central character. As Eastwood explained, "It establishes his character while reflecting the changes he goes through for the love of a woman and, at the end of the film, gives hope for his salvation." Though he wrote the theme, Eastwood says he "wouldn't presume to tell Lennie how to do his job. I would only ask him how to help me implement an idea."
Niehaus created a score that builds from the solo guitar of the legendary Laurindo Almeida to an entire orchestra taking up Eastwood's melody. As the movie draws to a close, the instrumentation becomes sparser, until finally, Almeida, in his last recorded work before his death, gives a poignant reading of the closing theme. "The many shadings Lennie gave the main theme enhanced the picture beyond my wildest hope," Eastwood commented.
Clint Eastwood and Lennie Niehaus were clearly destined for a project like Bird, something that would take advantage of Eastwood's love for jazz and Niehaus's ability to play, arrange, and compose jazz. "In Bird we had to teach Forest Whitaker [who played Charlie 'Bird' Parker] how to play alto fingerings. As I told Clint, there would be a lot of sax players looking at this movie with a critical eye, and we'd get phone calls and letters. The big question was what sax player could we get who sounded like Parker. There were a lot of players with a similar tone, but, just like Ellington's star soloists, Harry Carney and Johnny Hodges, Bird's tone and style was unique and unmistakable. Then Clint said, 'Why don't we have Bird play Bird?'"
Through extensive manipulation of Charlie Parker's original recordings by Skywalker Sound and other engineers, Charlie Parker's saxophone was blended into the movie with a live rhythm section featuring all-stars such as bassists Ray Brown and Ron Carter. Remnants of the original recording, such as Max Roach's explosive drum bursts, would still bleed through. So Niehaus charted these leaks and had the live musicians plug them with musical fills. Despite exhaustive measures by Eastwood and Niehaus to preserve the authenticity of the project, their efforts were met with criticism in some musical circles. Such criticism is often unavoidable, however, when you tackle the story of a legend.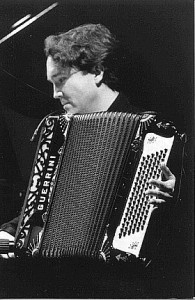 Carter Burwell (photo by Bob Hershon)
Carter Burwell, who has composed scores for Joel and Ethan Coen since 1984's Blood Simple, took the least traveled and most nontraditional path into film scoring. His journey started at Harvard, where he earned a degree in fine arts, and then moved across town, and disciplines, to MIT, to learn how computers could aid in reducing the tremendous workload involved in animation and graphics, his consuming interest at the time. Continuing his studies at the New York Institute of Technology, he discovered how computers could manipulate sound and music. Though he'd been improvising on piano since high school, music was still "just for fun."
In New York, while Burwell was playing in a band (The Same), he befriended Brian Eno, who introduced him to the music of David Hykes and The Harmonic Choir, whose unique polyphonic vocalization, like Tibetan sacred music, makes use of overtones. Having learned the concept behind overtone singing while studying signal processing, Burwell was able quickly to grasp the technique. After taking a workshop with Hykes, he found himself going on tour with the choir.
"Contemporary music performance opened my concept of what a composition was, and it made it a lot simpler when Joel and Ethan asked me to do Blood Simple," Burwell explained. "They auditioned quite a few composers and were being encouraged not to hire someone who was ignorant of the process, which was a good definition of me. But in the end, they liked the original sketches I'd done on synthesizer and piano and ended up using them in the movie."
Rather than betraying any hint of technology, most of Burwell's scores feature strong melodies with folk (Miller's Crossing) or country and western roots (Raising Arizona). "Despite all the advances in the way computers generate and analyze music, melody defies analysis and remains mysterious. The country flavor to some of my scores is Ethan's taste–I guess there must be some outlet for that in Minnesota. The Irish folk themes I used in Miller's Crossing were created to give a very dark film a little light, and reflect the inner life of Gabriel Byrne's character. The variety of subjects in Joel and Ethan's films allows me to write different types of compositions, so a number of things come my way. I did Blood Simple and Tony Perkins called me for Psycho IlL I did Raising Arizona and Joel warned me I'd get farm comedies. I got Doc Hollywood."
Carter Burwell puts much of his soul into scoring for the theater. Composing for Mabou Mines theater company, he joins other collaborators such as Philip Glass, Bob Telson, John Zorn, and Pauline Oliveros in what The New York Times has ranked "among the most influential experimental ensembles of our time."
"The Coen brothers include me early on in the film process, which is not standard," Burwell went on to say. "People borrow $100 million and look to get it back as soon as possible. Everybody is under the gun to work quickly. One of the things I love about theater is that it's more interactive, because the actors hear your score as they act in front of an audience. The preproduction process is much longer because in theater the money comes in dribs and drabs, so you have the luxury of time and you feel part of something rather than an appendage."
Stewart Copeland, who has been scoring films in Hollywood since 1983 (Rumblefish), offers a unique perspective on the difference between being a musician and a film scorer. "The main thing is learning to collaborate with nonmusicians. They play different gadgets instead of instruments, like an editor or cameraman. Sometimes you're dealing with someone who plays lead wallet. And lead-wallet players are even worse than lead singers. Also, you're not making a piece of music but a film, which I take great pride in. I'm not one of these guys who want the score played louder in a scene so I can hear the music. I just want the scene to work." Though he has had the good fortune to work on some prestigious Hollywood projects (Wall Street, Rumblefish, Talk Radio), he credits his time as composer for the TV series, The Equalizer, as his most important learning experience.
"The episodes of The Equalizer for me was like boot camp, something every budding composer should do when he gets out of school. After the first three episodes, you've used up all the chord shapes you have in your cookie jar. And then in episode four, you've got to come up with something new, here, now, today, for this emotion, attitude, or action. You learn where to go for what you need for that scene today, rather than going with what you wrote earlier, that might work for that scene.
"That's where you really become a film composer. Not a composer, classical or otherwise, who waits for an inspiration and sets it down on paper. Film composers must have complete control over the emotional impact and call it up at will, going from a period piece to a futuristic action thriller with thrashing synthesizer or an ethnic movie like Rapa Nui, involving ethnic war chants."
Despite the worldwide acclaim Copeland received as the drummer for the Police, he prefers working on films, which don't have the musical limitations of working within a rock band. "That's the part that appeals to me, the variety of musical endeavor. In a pop band you have a three-minute song and a certain variety of subjects which are acceptable. Films cover every aspect of life, death, human, non-human, extra-planetary, everything."
Perhaps the cinema's most remarkably free and creative working relationship was not between two individuals, but that between a composer, Toru Takemitsu, and the film industry of Japan. In the 1994 documentary, Music for the Movies: Toru Takemitsu, released two years before the composer's death, directors Akira Kurosawa, Hiroshi Teshigahara, and Masaki Kobayashi gave testimony as to how Takemitsu helped revolutionize the course of Japanese film.
Takemitsu began his career at the end of World War II, and was the first composer to use native instruments like the biwa in a Japanese film score. When Igor Stravinsky toured Japan after the end of World War II, looking for inspirational new works, Japanese government officials tried to exclude a Takemitsu composition from the Stravinsky competition because they thought it embodied an esthetic that was at odds with contemporaneous Japanese culture, which was then indundated by Western influences. After giving it a hearing, Stravinsky picked Takemitsu's work over all the other composers of his generation.
Conceptually, Takemitsu viewed all sounds in a movie, whether the cracking of a board or a passage for strings, as within the province of the score. Unlike foley (sound effects) artists who sync sound to the action, Takemitsu's 'musical' effects are often dislocated a beat from the action on the screen. His compositions for film are more sparse and, like his orchestral works (such as "November Steps" and "Fantasmo Cantos"), make use of extended silences to frame and delineate the sound.
"In most movies there is too much music," said Takemitsu. "It draws attention away from what's on the screen, which should tell the story by itself. To create suspense or accent the action, the idea is not to tell the audience the monster is coming, but to sneak up on them. I make an effort to alter natural sounds electronically, so as not to duplicate what one expects from the action on the screen. I try to create an impression of the sound to enhance the atmosphere."
The position Takemitsu occupied in the Japanese film world allowed him the freedom to work in this special manner. As longtime friend and collaborator Richard Stolzman explained, "Rather than compartmentalize his efforts, Toru becomes a coconspirator with the director. Toru's input was not just musical. He was there from the beginning to the end of the film. It's his artistic instinct that was so valued. That's why directors like Masahiro Shinoda (Double Suicide, Moonlight Serenade) would recut their films at Toru's suggestion. I think the high ideal of any art form is to combine with the other arts to make something more significant."
Takemitsu anticipated the same type of cooperation while working on the American film, Rising Sun (1993), but he was rudely awakened to Hollywood power politics when his score, and even the limited control of its placement, was wrested from him and director Phil Kaufman by the studio. As a result, the last score Takemitsu composed before his death, and his most widely exposed effort, bears little resemblance to its original intent.
Nevertheless, the composer's love for scoring remained unabated. "Scoring for the movies is like getting a passport to freedom," Takemitsu said. "It's a cooperative effort that counters the self absorption that can occur when one creates alone.
Although it may be off the beaten track, the road that these directors and composers have taken is a more sensible and humane approach to film scoring. The appreciation of each other's role in the film process, fueled by the length of their partnerships, is built upon a shared vision of the score as an integral part of the film. The end result is as elevating for the film score as for the movie it serves.
by Bob Hershon
Copyright of Cineaste is the property of Cineaste and its content may not be copied or emailed to multiple sites or posted to a listserv without the copyright holder's express written permission. However, users may print, download, or email articles for individual use.
Source: Cineaste, 1998, Vol. 23 Issue 4, p38, 4p, 5bw.
Item Number: 1012416