Article by Bob Hershon originally published in Jazziz Magazine Toru Takemitsu passed away shortly (February 1996) after the release of the film Music for The Movies:Toru Takemitsu.
"THE CONFLICTS, VIOLENCE, AS WELL as the erotic elements in cinema are what interest me."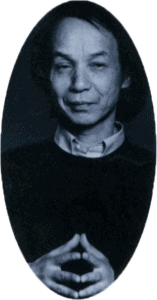 The artist quoted above is not American cinema's newest infant terrible Quentin Tarantino but Japanese composer Toru Takemitsu. Takemitsu is the latest recipient of classical music's richest and most democratic honor, the Grawemeyer award, and he is also the subject of a new film by Charlotte Zwerin(who also made the Straight, No Chaser documentary about Thelonious Monk).
Music for The Movies:Takemitsu chronicles the composer's revolutionary impact on the Japanese film industry, as well as his historic pair­ings with directors like Akira Kurosawa (Ran) and Nagisa Oshima (Empire of Passion). Takemitsu's career began at the end of World War II. He was the first composer to use native instruments (such as the biwa) in a Japanese film score, and his aesthetic was often at odds with the existing culture, then inundated by Western influence. When Stravinsky toured Japan after the war in search of inspirational new works, the authorities excluded Takemitsu's music because they thought it too odd. Through a bureaucratic snafu, Stravinsky heard Takemitsu anyway, and he praised the composer's work above all others. Official opinion changed, and Takemitsu became the preeminent composer in his country.
The composer of "November Steps" and, more recently, the award-winning "Fantasma Cantos," Takemitsu has always railed against the forces which separate composers into genres or dis-enfranchise creators from the application of their work. "Scoring for the movies is like getting a passport to freedom," he says. "Writing music for film is a cooperative effort that counters the self-absorption that can occur when one creates alone, where a composer can start obsessing about his creation and his 10 fingers.
I'm often asked to make a distinction between my film scores and my more 'serious' work, like 'NovemberSteps.' I say, 'Millions of people saw and heard the work I did on Teshigahara's Woman in the Dunes and Kobayashi's Kwaidan. You tell me that's not serious?"
Clarinetist Richard Stoltzman, who nominat­ed Takemitsu for the Grawemeyer award, outlines the special position the composer occupies in the Japanese film world: "In the film [Takemitsu] you can see the level of respect in which he is held by directors. Many of them are talking for the first time on camera, describing Toni as a friend as well as a collaborator." Stoltzman continues, "I think the high ideal of any art form is to combine with the other arts and make something more significant. Rather than compartmentalize his efforts, Toni becomes a co-conspirator with the director. His input is not just musical. He is there from the begin­ning to the end of the film. As Masahiro Shinoda made clear in [Takemitsu], it's his artistic instinct which is so valued. That's why Shinoda re-cut his film at Toni's suggestion." Takemitsu anticipated the same type of cooperation while working on the American film Rising Sun, but he was rudely awakened to Hollywood's power politics when his score and whatever control he may have had was taken from him. All director Phil Kaufman could offer was his regrets that the process was beyond even his control. As a result, Takemitsu's most widely exposed effort bears little resemblance to his original intent.
Conceptually, Takemitsu views all sounds in the movie, whether the cracking of a board or a passage for strings, as within the province of the score. Unlike the foley (sound effects) artists who sync sound to the action, Takemitsu's "musical" effects are often dislocated a beat from the action on the screen. His compositions for the medium are much more sparse and, like his orchestral works, make use of extended silences to frame and delin­eate the sound.
"In most movies there is too much music," says Takemitsu. "It draws attention away from what's on the screen, which should tell the story by itself. To create suspense or accent the action, you have to sneak up on an audience, not musically cue them that the monster is coming, like in Jaws. I make an effort to electronically alter natural sounds so as not to duplicate what one expects from the action on the screen. Rather I try to create an impression of the sound to enhance the atmosphere."
Takemitsu's love for jazz, evinced by his Dixieland theme on his latest film, can be traced to his post-war years, where the Armed Forces radio filled the Japanese airwaves with big band music from "V-discs. "The latest release of his compositions, Richard Stoltzman's Cantos on RCA Red Seal, includes "Waves," which marries improvisation to modern classical form in a truly unique manner. His affection for the form was, as Stoltzman relates, a direct outgrowth of his interest in one of America's greatest composers.
Click picture to view Richard Stolzman introducing and performing Takemitsu's Fantasma Cantos
"Some years ago," says Stoltzman, "despite the fact he received no formal training in music, Tom was awarded a Guggenheim Fellowship. When asked who he wished to study orchestration with, he named Duke Ellington, and was subsequently informed that was an inappropriate choice. It's unfortunate, because he shares many abilities with Ellington, like the uncanny knack for recognizing and writing for the special qualities of his soloists." "Fantasma Cantos," for instance, has a passage where Ellingtonian muted chords in the winds and harmonics in the strings are sustaining very softly while the clarinet plays a line with the kind of purity you hear in the opening of "In a Sentimental Mood." To paraphrase Stoltzman, Takemitsu's music mirrors both a spirit which would disturb no blade of grass and a will which has persevered against one of the world's most powerful industries. As Takemitsu so obviously shows, first and foremost, the duty of any sound-track is to serve the film. It's therefore a happy accident when a film score will stand on its own as a listenable and somewhat coherent CD. Aware that a soundtrack can breathe life into a film project or financial equity, record companies are now putting all their digital wizardry into maximizing the exceptional sonic imagery and dynamic range of the movie's sound. Case in point: most of the shoppers who are grabbing Michael Nyman's fine score for Six Days and Six Nights (Virgin) have never seen the French film.
Though your local record store may have an expanded film section these days, the CDs contained therein have a shorter shelf life than most. So here are some I hope don't pass you by. Danny Elfman, best known for punchy, sci-fi thrillers like Darkman, Batman, and Beetlejuice, got a chance to stretch out on Dolores Clairborne (Varese-Sarabande), a compositionally softer and more transparent score. "Composers are typecast just like actors," comments Elfman. "Even though you try for some-thing different, you're offered what you're known for."
Being so tied to the action of the medium, Elfman, like Bernard Hermann (Psycho, Citizen Kane), has made exquisite use of unique and often dissonant harmonies to create another level to the work. (Wayne Shorter admits to spending countless afternoons "absorbing" harmonies of horror and sci-fi epics). Working with smaller orchestras, Elfman divided the string section to mimic the different levels of emotion and interaction between the characters. "The challenge was the music which had to play all this relentless tension and tragedy and at the same time had to underplay this sweetness and a little girl's innocence being corrupted." The levels of subtlety in this eerie but beautiful score mark it as his best effort to date.
Looking back 20 years to when I wrote this article, Shawshank Redemption (Epic), composed by Thomas Newman (Lost Boys, The Player) may be my favorite use of music in the movies.  Shawshank is an unusually well-crafted score in which the composer mapped the internal emotion of characters through tasteful themes on the keyboard while creating string orchestrations of the biggest scenes. Newman, who received two Oscar nominations in '94 (Little Women and Shawshank), is a member of film music's most famous famiglia: composer-father Alfred Newman (Wuthering Heights), Hollywood's only nine-time Oscar winner; Uncle Lionel (Hello, Dolly); brother David (Hoffa); and cousin Randy (The Natural).  For the most personal scenes, the piano was often supplemented by the prepared pedal steel guitar of Chas Smith. "There's a control and an ability to personalize you have with an altered instrument you could never have with a synth," Newman points out.
Whether it's the stark simple harmonies with the pedal steel's echoes of eternity that accompany a prisoner's dignified suicide, or the well-harnessed orchestral string hymns that accompany a prisoner's taste and desire for freedom, it just seems to "fit." Like the way an actor  "fits" a part so well, you can't imagine anyone else doing it, or any other way of having it done. "That's what it's all about, not overpowering or underpowering what's on the screen," says Newman. "It's interactive. When Morgan Freeman has a big scene, even though you pull back on the string section, it'll have more of an impact, because of his presence. Hearing the CD by itself, you get a different impression of the same scene. I imagine it is always a surprise."
One of the year's most moving scores, The Browning Version (Milan), belongs to Mark !sham. (As Elfman points out about trends in Hollywood scoring, "Besides the level at which the music track is mixed in, the present habit of pushing a certain range leaves the score sounding shrill, often disguising an entire range of subtlety in the strings.") Though it was submerged in the movie's original mix to the point of invisibility, the remixed CD has rescued Isham's finest string work to date.  The 20 cues on the CD, often of one or two minutes in length, never repeat the same instrumentation or same melodic fragment. This keeps the string arrange­ments constantly fresh. It takes a certain type of magic to keep you hungry for a theme each time it comes up.
I would also encourage enthusiasts to check out Romeo Is Bleeding (Verve). Isham, known for his tasteful electron­ics, which set the mood for this roman­tic nightmare, has made the soundtrack which is closest to his heart and his actual performing style, featuring his trumpet playing in a wider range than his previous projects have allowed. In addition to Isham's intricate composi­tions, Abbey Lincoln, a fine composer herself, soars on her song "Bird Alone."

Speaking of composer/trumpeters, Terence Blanchard's soundtrack for Spike Lee's Clockers (the street term for people who count/account for drug money) was completed early in the year, but the film is scheduled for fall release so Lee can be sure the film will be fresh in the Academy's limited memory. The score (on MCA) is beautiful, definitely on par with Blanchard's best work.
On Queen Margot, he mixes women's and men's choruses for pieces that seem to come from the orthodox church of another century but are Bregovic's own compositions. The elegant string and often-forceful orchestral cues occasionally co-exist in an Ives-like double life with rockin' belly dance themes. Everything he touches here turns to gold. Less ambitious but more accessible is the soundtrack to the Oscar-nominated Macedonian feature Before the Rain (London). Recorded by Anastasia, an indigenous folk group, the instrumentation ranges from bagpipe sounds, bass hand drums, Greek psalter, and deep echoing vocals which all remind you that you ain't in Kansas. Perhaps because Before the Rain is about the life and death struggle of a people, it is the most personal and passionate of all these selections. Both Margot and this soundtrack are great advertisements for the preservation of Balkan cultures. On a lighter note, Exotica (Varese-Sarabande) composed by Mychael Danna, uses traditional and popular Indian music augmented by electronics in a manner, which seems to say, open your chakra and say "Ahhh." Though beautiful keyboard themes intervene, I believe the idea here is to hypnotize. So, when I say this score is charming, I mean like in snakes. •
Picture Bride (Virgin), directed by Kayo Hatta and scored by Mark Adler (who helped Mark Isham orchestrate Never Cry Wolf), accompanies a story of a Japanese woman who is taken against her will to Hawaii for an arranged marriage. Much like in The Piano, the theme depicts her internal struggle, most often voiced here by the exceptionally expressive shakuhachi-like, wooden flute of James Walker (who can also be heard on Joy Luck Club). Picture Bride is Adler's third collaboration with an Asian director, and he uses traditional Japanese motifs occasionally orchestrated with Coplandesque clear, wide intervals to evoke images of the island's nat-ural grandeur. Some of the finest moments come in quiet passages with the theme stated on a nylon string guitar (played by Peter Maunu), reminiscent of the poignancy and the power of the end titles of The Unforgiven. "I think placement and instrumentation keep a theme fresh," says Adler. "People began laughing at the theme for High Noon at the test screenings because it was so overused. Once they scaled it back, it became a classic."
Of the foreign projects, first and foremost is Queen Margot (London) scored by Goran Bregovic. Bregovic, a former Bosnian rock idol, who was forced to leave Sarajevo, eventually landing in Paris where he hooked up with Bosnian director Emir Kusturica. His soundtrack for Kusturica's Arizona Dream turned into a gold record in just three months.