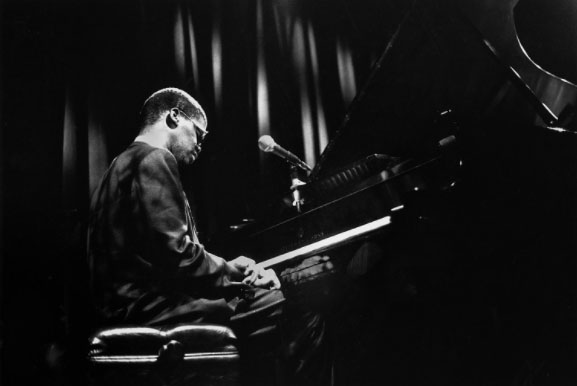 The Listener
Article on Marcus Roberts
By Bob Hershon
Originally published 1992 Jazz Journal International
Marcus Roberts has spent most of his young life" in the shed", practicing piano, listening to the masters like Duke and Monk and following their examples of how to be a man. With the release of his new solo album "Alone With Three Giants" on Novus Records, he has stepped out of their shadows and broke some new ground of his own.
A follow-up to his award winning group album "Deep In The Shed" , the solo piano album is in part a tribute to Jelly Roll Morton whose composition "Jungle Blues" is the centerpiece among such gems as Duke Ellington's "Black and Tan Fantasy" and the seldom heard Thelonious Monk masterpieces "Trinkle Tinkle" and"Pannonica."
It very well might have taken a solo album to expose the breadth of Marcus Roberts' talent. For even on "Deep in the Shed", his arrangements provided such an excellent platform for the talents of soloists Todd Williams (sax and clarinet), Wycliffe Gordon (trombone) and Wes Anderson (alto sax), one could at moments forget whose album it was. But then few people ever realized the depth of his contribution to Wynton Marsalis' band.
Besides his duties as soloist and arranger his most "instrumental role may have been as a friend and "brother in arms" to Wynton himself. If you ask Marcus he was just happy to be there. After a few chance encounters with Wynton and a number of long distance phone calls. Wynton decided to send Marcus some tapes of his new material. "You know I loved his music so it was a challenge, I wouldn't have cared if it was ten tapes. It was like giving food to a starving man. They might have some trouble eating, but believe me they're going to eat. It was important for me to see someone close to my age who could do what he did. It was a chance for me to show him the respect I had for his music whether I had one gig or no gigs".
Wynton has championed Marcus' talent from the beginning for as he tells it Marcus was an accessory before and after the fact. Wynton: "The push of pop music into jazz has taken its toll on my generation. No one wants to be serious. As a result of this my first band broke-up. Although it may not have appeared that way to outsiders, I was really depressed about what I was playing. I didn't know who I was going to get to play the music which was complex and hard to teach. I had told Marcus I would call him if Kenny Kirkland left. He came up to my apartment and he knew all the tunes. It put me on an entirely different vibe. I had been ready to give it up. I love him man. He practices. He deals with the music, yet he's really funny .He's the J Master. Philosophically he's advanced; he doesn't need anyone to articulate his thoughts. He can speak for himself".
I asked Marcus how he would respond to the criticism that Jelly Roll Mortons' music is outdated. " It just illustrates the lack of respect people have for this music. They don't do it to other forms. Music from the classical era is taught in every university and played by every symphony. Jelly Roll Morton was one of the first great stride pianists. It's terribly difficult to play his music because you need so much power to generate that driving rhythmic effect all those people played with. Like Duke and Monk, he was not only an innovator on the keyboard but in his presentation of the music."
It very well might explain why compositions which span four decades such as Monks' Misterioso, Mortons' Crave and Dukes' Prelude To A Kiss can coexist on an album such as "Alone With Three Giants. "All three men were ahead of their time and of course blues makes great bedfellows. And Marcus does know the blues as he aptly demonstrated on "Deep In The Shed" in which he exposes the blues as a universe of variation from the haunting Strayhorn-like "Mysterious Interlude" to the smoky afterhours sound of "The Awakening". Despite his youth his prowess with the blues is well known among his fellow musicians. Just ask Kenny Kirkland "In preparation for an upcoming session with blues greats like B.B. King and John Lee Hooker where I knew I'd have to play a slow blues I went back and checked Marcus out because I always thought he had a mastery of that form."
For Marcus Roberts there is only one main man. "Duke has always been my consummate role model. His development as a musician and a person embodies the American ideal of democracy. He conquered all the obstacles and created a whole world of music. You can listen to his music and check out every aspect of jazz from the New Orleans School (Louis Armstrong and King Oliver),sacred music, modern classical and African. He was an international man very articulate, dignified, and sophisticated. A complete pianist with a big rich clear resonant tone he only played things which elevated his surroundings. Finally the fact that he kept a band together (and what a band!), for as long as he did, while he was on the road! All the while developing as an arranger, composer and pianist while helping the players around him reach their maximum potential. It was remarkable.
As a Christmas present to his fans, Marcus Roberts released a three song Xmas C.D. on which he plays solo piano. On it his extensive background in the music of the gospel church where he and his mother were regular performers is brought to light. "I don't know why everybody seems to pass over the fact my roots are in gospel. That's where I first played for an audience. I grew up listening to The Dixie Hummingbirds and Mahalia Jackson whose performance of "Come All Ye Faithful" was the inspiration for my performance on both Wynton's "Crescent City Christmas Card" and my Christmas C.D.In describing Mahalia Jackson's performances people often use words like "down to earth" or noble simplicity. The beauty of pieces and performances of Single Petal of A Rose and Come All Ye Faithful is less a question of simplicity than subtlety and finding a truly organic thread that ties everybody to it. Just like Emc2 it seems so simple yet it took 8 black boards to hold all the formulas Einstein needed to get to it."
Like other great musicians, Marcus has that organic thread that binds us. Despite receiving Downbeats award for top pianist and USA Todays' Best Album of the Year (The Truth Is Spoken Here),he feels he has just begun to grasp the elements which form Dukes' music.  No doubt with each new project Marcus will continue to surprise. Even as I write this article his performance on Wynton's "Standard Time Vol.2" in a trio format shows a side of Marcus' playing I was totally unaware of.(Without the aid of liner notes I thought it was Kenny Kirkland). Even though he pictures himself at the beginning of a long and winding road he may move farther and faster than anyone his age has for quite some time.