Menu Simplification
A lot of the menu items in Media Composer have been reorganized. They now are grouped in a more logical location. Note that the Bin, Timeline and Composer context and Fast menus have also been reorganized.
A handy table in the What's New Guide lists the main menu items that have moved, where they appeared in previous releases, and where you can find them now.
Adding Tracks in the Timeline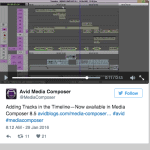 Now you can add a track by simply dragging a clip in your timeline. As you drag the clip vertically up or down the timeline, and let go of the clip, a new track is added. Note that you can only create as many tracks at the same time as you are dragging.
Trimming with Sync Locks On
A new feature allows you to enable Sync Rollers for Sync Locked Tracks. In previous releases, you had to wait for the trim to end to see how sync was maintained. With this release, when you enter single roller trim, each track gets either a gray roller or a dimmer yellow roller. The gray roller appears when there is a segment directly under the selected roller. The dimmer yellow one will appear on the left side of the next segment when there is filler underneath the selected roller.
Changes in Trimming Clips
Media Composer now has new 'end of trim' indicators that show you whether the trim ends because there's no more media or whether you're running into the next cut. These new indicators instantly show you what track or cut point will be your stopping point if you were to continue trimming.
It also shows tick marks when trimming.  This is useful when slipping clips, to show the movement of the actual trimmed segment.
Adding Custom Columns and Multiple Columns to a Bin
In addition to the standard column headings, you can now add your own column headings to describe information about clips and sequences.
Also, if you select multiple columns to add to the bin, they will appear directly to the right of the selected column. If you do not select a column, the new columns will be placed at the far right of the bin.